Report: Tubby not leaving Minnesota
To those expecting Georgia Tech to make a coaching change in the coming weeks, scratch Tubby Smith's name off the wish list.
The Minnesota head coach and former Georgia head coach this weekend rejected rumors that he would be the Yellow Jackets' replacement if the Institute decides to buyout current head coach Paul Hewitt's contract at season's end.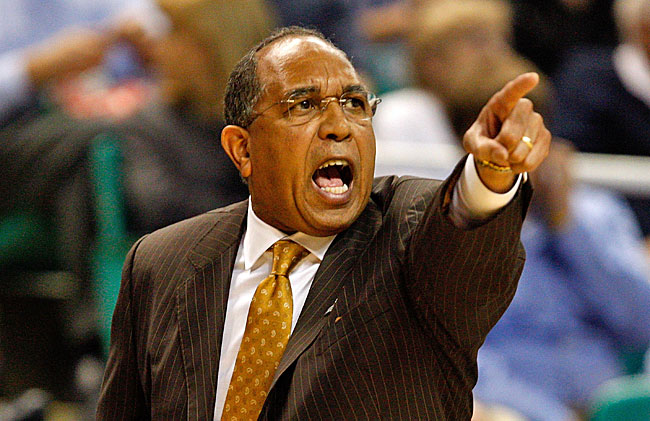 Tubby Smith led Georgia between 1995-97. Although there is no consideration of an opening at Georgia Tech right now, Smith's name has been circulated as a possible replacement for current head coach Paul Hewitt. Smith rejected such talk. Photo Credit: minnesota.publicradio.org
Last week, an ESPN analyst posited that the coaching world was abuzz about whether Tech would let go of Hewitt in favor of bringing in Smith. Smith led Georgia from 1995-97. He compiled a 45-19 record in Athens and led the Bulldogs to their first back-to-back 20-win seasons in school history.
According to a report from The Minneapolis Star-Tribune, Smith has no interest in leaving the Twin Cities.
"Why would I be interested in that job? I'm not going anywhere," he said in the report, citing a potential Georgia Tech opening. "My wife likes it here, I like it here and I'm going to finish my career here."
Smith took over at Minnesota in 2007. Although the Gophers have a winning record, their 6-12 Big Ten record entering the conference tournament this week have many in Minnesota concerned about his own job security.
It must be noted, Tech officials have not said one way or another whether they plan to make a coaching move in the coming weeks or not. As has been his stance since last March, Tech athletics director Dan Radakovich has been sticking by Hewitt, affording him every opportunity to succeed. At season's end -- after the ACC, or possibly, NCAA tournament -- the pair will sit down and discuss the future.
The Jackets are 13-17 overall following a 66-57 win over Miami on Sunday. The game was the last at Alexander Memorial Coliseum before a renovation project kicks off in the next 18 months. When the space reopens, it will have a new look and new name.
Because Tech will be forced to play at either the Gwinnett Center -- 26 miles northeast of Tech's midtown Atlanta campus -- or Phillips Arena next season, some believe Radakovich may retain Hewitt's services for one final season. It would be to avoid paying an approximately $7 million buyout to Hewitt, as well as allowing the program to wait on bringing in a new coach for when the Jackets open a new arena. For what has become an edgy fan, it could be a case of two splash hits at once.
For another reason Hewitt could survive, look no further than the team's personnel. If junior guard Iman Shumpert decides to return next season instead of going pro, the Jackets would have an older, more experienced team full of battle-tested guards coming back. They could be a much better team.
Shumpert, Glen Rice, Jr., Brian Oliver, Jason Morris and transfer Brandon Reed will be part of a banner group of scorers. Forwards Daniel Miller, Kammeon Holsey and Nate Hicks -- all now freshmen -- will have an extra year under their belts and may be contenders in the post. On paper, the team could be vastly better. Late this season, it has shown flashes of what could be.